About Southwest Poly Bag
Southwest Poly Bag
is the e-commerce affiliate of
AA Poly Bag Company
in Carrollton, Texas. Founded in 1983, we have been serving customers in North Texas and all over the United States for 30 years and counting! We work with the highest quality ISO 9001-2008 certified manufacturers (domestic and foreign) to supply the best available flexible packaging solutions, corrugated boxes, and shipping supplies at the best possible prices. We are intensely focused on providing great customer service, competitive pricing, and high-quality products. We keep our operating costs extremely low, so we can provide you the best possible values.
Our goal is to be your preferred provider of flexible packaging solutions, corrugated boxes, and shipping supplies.

Every day, we strive to:
Beat any published price on stock items that we carry.
Ship your order within 24 hours or 1 business day.
Ship from a warehouse near you from one of our distribution points – Boston, Philadelphia, Los Angeles, Chicago, Atlanta, Dallas, Cedar Rapids, Denver, Reno, San Francisco, and Seattle. (Depending on product availability, of course.)
Do what it takes to make you a satisfied customer, and quickly resolve any problems you may have with our products or service.
Seek out new manufacturing sources and add new products that provide great value and meet your packaging needs.
In addition to Industrial, Food Service, and Medical Poly Bags, we offer Anti-static and Static-shield products, "Kwik-Fill' automatic bags on rolls, Merchandise Bags, T-Shirt bags, Industrial Pallet Covers and Tarps, Polypropylene bags, Trash Can Liners, Heat Sealers, stock and custom corrugated boxes, and various shipping supplies.
We offer CUSTOM "Quick Turn" non-printed bags, tubing and sheeting to fit virtually any industrial need. Your custom made "Quick Turn" order will usually ship within 10-12 business days. Minimum orders will vary depending on the amount of raw materials used, and set up costs.
We also offer a virtually endless variety of CUSTOM-PRINTED bags, in Low and High Density Polyethylene (LDPE & HDPE), and Polypropylene (BOPP & CPP) films. (See Quick Turn section for more details.)
Our best customers include the following business categories: Manufacturing, Food Service, Medical Labs, Arts & Crafts, Jewelry, Gifts, Printing & Publications, Clothing, Photography, Retail Stores, Restaurants, and Distributors. We look forward to learning more about your needs and how we might create value for you.
Returns....
Call us within 30 days and receive a merchandise credit, replacement, or refund.
Six Reasons Why Poly Bags Are A Sound Choice For The Environment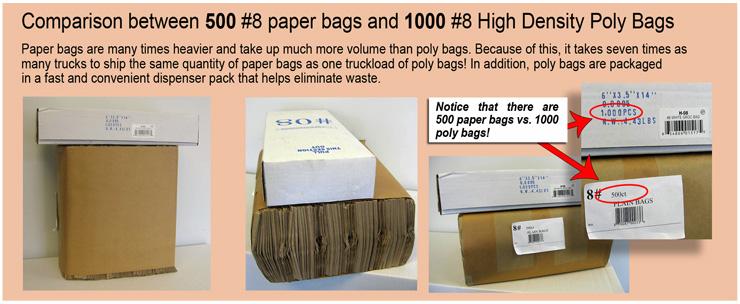 Issue #1 - Energy required to manufacture plastic vs. paper
* It takes more than four times as much energy to manufacture a paper bag as it does to manufacture a plastic bag.

* The primary reason for this is that it takes only one-eighth as much material to produce a plastic bag.


Issue #2 - Pollution
* The majority of kraft paper is made by heating wood chips under pressure at high temperatures in a chemical solution. The use of these toxic chemicals contributes to both air pollution, such as acid rain and water pollution.

* Paper sacks generate 70% more air pollution than plastic bags.

* Paper sacks generate 50 times more water pollution than plastic bags.


Issue #3 - The Landfill Crisis
* Plastic film is estimated to account for less than 3% by volume of municipal landfills compared to 97% other materials.

* By weight, plastics account for only 7% of the U.S. landfills compared to 36% for paper.


Issue #4 - Transportation
* It takes seven trucks to deliver the same quantity of paper bags contained in one truck of plastic bags.


Issue #5 - Recycling, Reuse and Source Reduction
* It takes 91% less energy to recycle a pound of plastic than it takes to recycle a pound of paper.

* Secondary use of plastic bags reduces solid waste by reducing the need for new bags.

* Plastic bags are 90% thinner than their paper alternatives and the use of these thinner, superior films has had a significant impact on reducing the volume and weight of plastics in municipal landfills.


Issue #6 - Degradability
* Special additives can be blended with polyethylene resin to make them "oxo-degradable," allowing them to degrade over a period of time when exposed to various outdoor elements. Upon degrading, they will not leave fragments, methane or harmful residues.